TLDR; Delist MuesliSwap Liquidity Pool Tokens from earning $indy, so that liquidity flows to dexes with the most volume in order to maintain price stability and pegs.
Recently, there has been a push across the greater Cardano ecosystem on liquidity. Awareness has risen about the importance of liquidity and how it effects token price. The more liquidity a trading pool has, the more stable a trading pair becomes. The recent temperature check, temperature vote, and on chain vote provided by Indigo Labs has a big emphasis on liquidity. So I think it is time we discuss where our incentivized liquidity pool $indy rewards are going.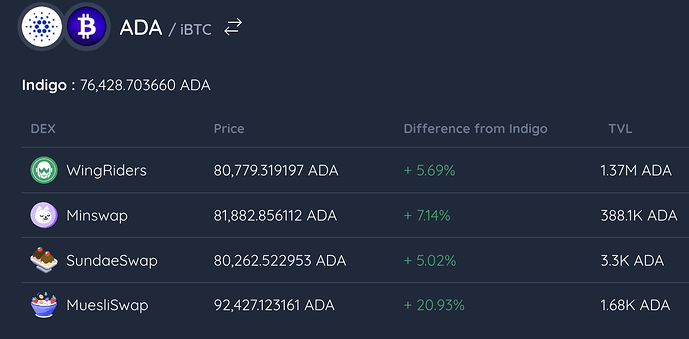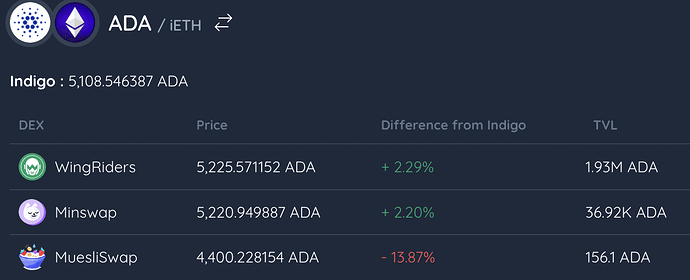 As much as we love MuesliSwap here at Indigo, and after 6 months of being WhiteListed to earn $indy for providing liquidity there, it seems the markets have spoken. Having iasset liquidity fragmented like this is doing the Indigo protocol a disservice. The Cardano ecosystem as a whole is not mature enough to handle liquidity fragmented across multiple dexes as such.
So the proposal is simple: Delist MuesliSwap Liquidity Pool Tokens from earning $indy rewards. This proposal in conjunction with the already proposed delisting of LPTs from Indigo and combining $indy rewards with dexes is another attempt to concentrate liquidity on the dexes that receive the most volume, and thus helping to stabilize and maintain better price pegs.
Questions, comments, concerns? Lets discuss.