tl;dr: Stability Pool INDY rewards ought to be reduced to the same level as Liquidity rewards to improve the longevity of the protocol.
---
A high allocation of INDY emissions were allocated to Stability Pools with the assumption that rewarding Stability Pool stakers was critical for iAsset price stability. Because of lack of real-world utility of iAssets, the most common use case for iAssets is to stake them in the Stability Pools. This, it turns out, is a highly profitable use case because of the excessively high emissions.
High emissions directed towards Stability Pools reduces the incentive to stake iAssets in DEXs. Due to lack of liquidity in DEXs, iAssets tend to become depegged to the upside. This is evidenced by each of the three iAssets regularly trading above their intended pegs. (iUSD currently trading 4% above peg, iETH 5% above, and iBTC 7%).
High emissions also lead to unnecessary selling pressure of INDY, pushing its price down.
High emissions wouldn't be problematic if it was paired by significant TVL growth. Unfortunately, Indigo's TVL growth has been negative relative to emissions. The majority of TVL growth as of late has come from the increase of price of ADA.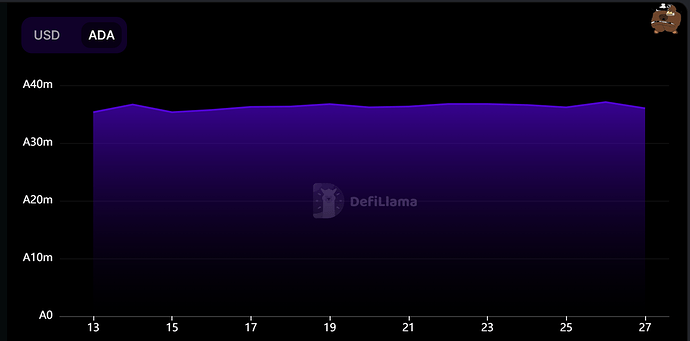 TVL growth denominated in ADA shows stagnation
During this period of stagnation, over 107k INDY was unlocked, reducing the market cap to TVL ratio. With each unlock has come a dumping of INDY, pushing its price lower as a result. This price drop is rationally justified because the TVL remains the same meanwhile more supply of the token is emitted.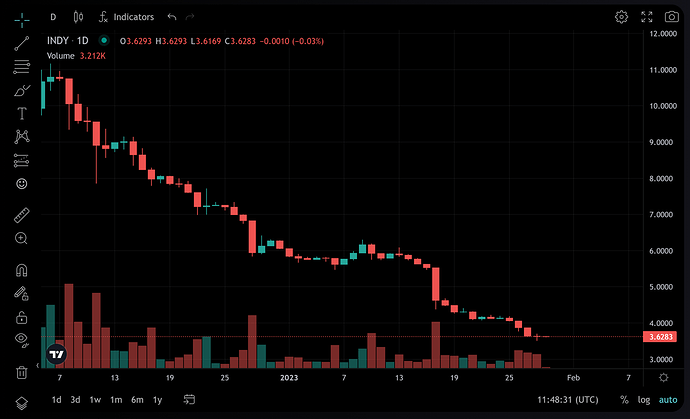 To change this rational market behavior, either the inflation must be reduced or the TVL must increase. TVL is not something we have direct control over, but inflation is.
Thus, I propose to change Stability Pool emissions to match that of Liquidity emissions. Hence, from the moment this proposal (if passed) is executed, Stability Pool rewards would reduce from 28,768 to 4,795 per epoch. 4,795 INDY would continue to be emitted per epoch until 21-Dec-23, when it would increase to 9,590 INDY the same as Liquidity emissions.
Stability Pool rewards should be reduced to match Liquidity rewards because both aspects of the protocol are equally important. Stability Pools ensure liquidity for liquidations to maintain overcollateralization; Liquidity pools ensure liquidity for buying/selling to maintain price pegs. The protocol can survive with much lower deposits in the Stability Pools because of the arbitrage between liquidation price and the oracle price.
Having Stability Pool saturation of over 80%, as is the case for both iBTC and iETH, is not only unnecessary but also harmful. Liquidity providers take on higher risk in the form of impermanent loss and yet are rewarded significantly less than Stability Pool stakers (who take on very low risk). By equalizing the rewards for both types of users, it'll incentivize more liquidity into the DEXs. The current tripe-figure APRs for Stability Pool stakers is excessive and unsustainable unless TVL growth rapidly accelerates.
The rewards given to liquidity providers has proven to be effective at incentivizing liquidity. There's no reason to increase (or decrease) the Liquidity rewards; instead, the goal is to reduce the Stability Pool rewards. A reasonable target is to make both rewards match. In essence this will increase the rewards for liquidity providers due to the percentage increase relative to total emissions – 13% rewards being increased to 40% rewards. (The split will be 40% to Stability Pools, 40% to Liquidity, and 20% to Governance.)
The unallocated INDY should be withdrawn from the rewards wallet and distributed to the Indigo DAO Treasury (which would be roughly 8.3M INDY, depending on the time this proposal is approved and executed). The Treasury is underfunded and adding more INDY into the Treasury will better equip the DAO to survive in the future and undertake growth initiatives. The Treasury currently only contains about 4.5M INDY. Distributing the INDY from the Stability Pool stakers to the Treasury effectively almost triples the amount of capital the DAO will have to be able to use for growth (paired with potentially increased price of INDY to further capitalize).
The benefits of voting in favor of this proposal include:
More stable iAsset prices due to increased incentive to stake in DEXs
Less risk of iAsset depegs to the upside due to less iAsset buying pressure
Higher price of INDY due to lower inflation
More INDY staking rewards due to emissions
Make the protocol more sustainable in the long term
One downside of approving this proposal is it'd lead to potentially inaccurate Adaptive Quorum Biasing calculations in the future. This could be fixed by introducing another proposal to adjust the protocol parameters to match the new reduced inflation rate. Even if this is not done quickly, it doesn't harm the protocol in any way. Instead, it may make future proposals slightly more difficult to pass due to a higher quorum threshold.
In my view, the advantages strongly outweigh the disadvantages. Rewards will still be high, though not as insanely high as they are now. Stability Pool stakers will continue to earn liquidation rewards and will further benefit from the ability to compound their yield due to more stable price pegs. INDY will continue to be distributed to the community at a reduced inflation rate to better align with TVL growth.
The sooner this proposal is executed the better, because it'll benefit all Indigo DAO members by improving iAsset price stability and increasing the value of the token.