I think they will us multiple Oracles.
DO you intend to make a limited scope Orical?
The only oracles that I see Cardano using is c3, because that oracle is code specific for Cardano. They will use Chain link as well but c3 was made purposely for Cardano. I also saw AP13 in the ecosystem as well.
They did say that they would via my own questioning of them lol
Chainlink and Charlie 3 will bring benefits to Indigo Protocol.
With Cardano's close ties with Ergo can their oracles be used? Alex C is somewhat of an oracle master.
Correct, looking forward to supporting any company building on Cardano.
Ive heard this also lets hope its true. Im also hoping that ergo has a nice oracle in future for cardano
Ergo offer oracle services and are cross chain friendly with Cardano
Theres always Chainlink. Its obviously the premier Oracle at this moment.
What about API3 ? Are you considering them, and what do you think of them? I just heard about the project(API3) like last 2 weeks~ish
I think C3 and Chainlink are already great. With Chainlink, history speaks for itself and C3 actually seem to be a very active and committed group. The problem has been, as far as I know, that they are in this tricky situation in which the majority of the big protocols they have partnered with, including ours, have not yet launched and consequently it has been pretty challenging to stay afloat for know. On the other hand, Indigo, Meld, Paribus, just to mention a few, are planning launches after or around the Vasil fork - the pipelining and Hydra will allow them to open doors using their full potential which for more complex projects than the dexes is paramount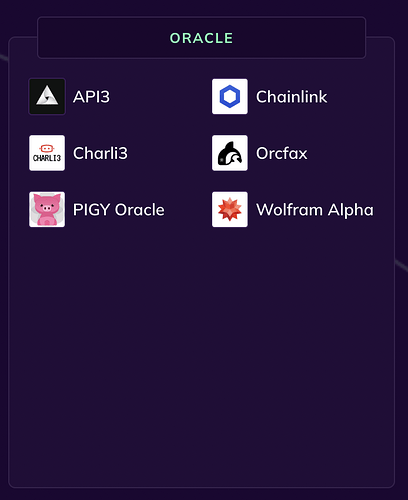 These are all the alternatives within the ecosystem, according to
CardanoCube.io